The main function of an egg tray is to provide a shockproof way to handle and transport fragile eggs. They come in many different colors and are considered environmentally friendly because they are made from recycled raw and waste materials. At Beston Machinery we provide all types of egg tray making machines. We can also customize a machine according to your particular production needs. The main features and advantages of an egg tray making machine are:
– It is a worthy investment that can turn waste paper and raw material into profitable products that are eco-friendly, tough, and in high demand and will make you money.
– Our machines are made from anti-corrosive materials for durability and quality service and carry a one year warranty.
– An egg tray making machine is easy to operate and maintain.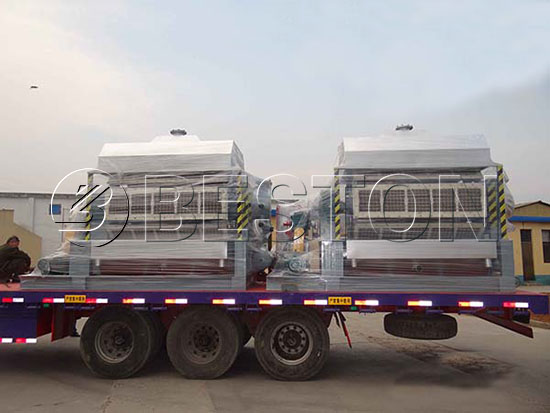 – In line with social development trends, it greatly reduces environmental pollution by making use of recycled material and reducing the use of plastic materials.
– Eggs are an essential food commodity that is used in many food products. As the sales volume of eggs increases the demand for egg trays increases which translates into more profits for your business.
– Products produced by a paper pulp molding machine have a wide range of applications.
– There is no need to add any chemicals to the mix apart from pigments for colourful trays.
– You have a choice of which fuel to use including coal, natural gas, or diesel.
Normally egg trays have 30 holes but can be customized to your requirements. There are three types of paper egg tray making machines for sale available from our factory:
1. Manual Egg Tray Machines are ideal for small-scale operations and come in two models that produce 1,000 or 1,500 trays per hour.
2. Semi-Automatic Egg Tray Machines are suitable for medium to large scale operations and come in three models that can produce 2,000, 3,000, 4,000, or 5,000 trays per hour. The semi-automatic egg tray machine does not come with an automatic egg tray drying line and the wet, semi-finished trays have to be conveyed manually to a drying area. Although the cost of a semi-automatic machine is lower than a fully automatic one, it requires more labor.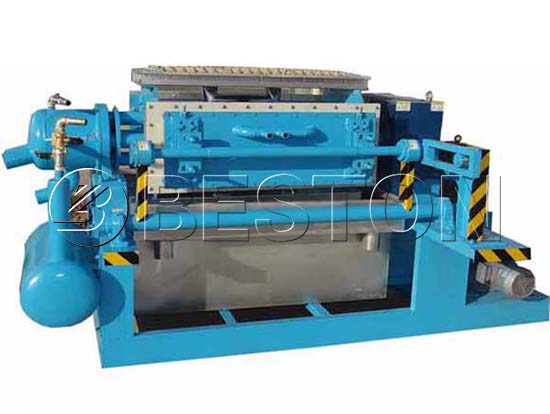 3. Automatic Paper Egg Tray Machines use a fully automatic operating process that includes an egg tray drying line for automatic drying of the egg trays, and a hot press for packaging. This machine saves time and labor and can produce 5,000, 6,000, 7,000 or 7,500 trays per hour. An automatic egg tray making machine consists of three different systems:
? A Pulping System that turns original wood pulp or recycled or waste paper like old newspapers, books, and corrugated cartons into a sludge that is sent directly to a pulp adjustment tank where it is turned into a ready-pulp consistency.
? A Forming System with transfer and wire mesh tools that use a vacuum system to form the wet pulp into tray molds.
? A Dryer System that comes in two types: a single-layer or a double-layer egg tray drying system. The wet products are conveyed through a brick or metal drying tunnel. This is a very important step in the production line as a high-quality drying process will prevent poorly-formed trays and minimize losses.
? A Hot Press System is used to stack the trays together tightly for convenient transportation.
At Beston Machinery we manufacture only quality egg tray making machines from anti-corrosive materials. Our professional engineers will assist you with the installation of your choice of machine and educate your workers in the operation of the machine. In no time you will be turning natural waste and recycled materials into high-quality paper egg trays that will earn you a profit. Our quality machines are able to produce high-quality paper egg trays that will protect eggs from damage, moisture loss, micro-organisms, and deterioration due to high temperatures.